Heat Pumps - Reviews, Prices and More!
Carrier Heat Pumps: A Company Legacy For Almost 100 Years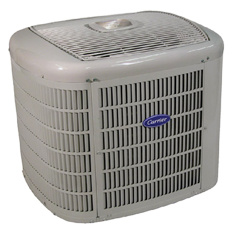 Carrier is perhaps the most well-known, and certainly the oldest of the heating and AC companies. In fact, William Carrier INVENTED what he termed 'manufactured weather' in 1902. He founded the company that bears his name in 1915, in New York.
Carrier Company Facts -- -Operates in 172 countries on 6 continents -North American operations include 200+ distributors and 20,000 dealers -Currently employs 45,000 persons -Operates 78 manufacturing facilities -Installed equipment now operates in the Sistine chapel, Great Hall of the People (Beijing), U.S. Library of Congress, and Mount Vernon.
Facts on Carrier Heat Pumps -- -Infinity Series Carrier Heat Pumps: Up to 19 SEER Rating; Up to 9.5 HSPF -Performance Series Carrier Heat Pumps: Up to 15 SEER; Up to 8.5 HSPF -Comfort Series Carrier Heat Pumps: Up to 15 SEER; Up to 8.5 HSPF
What is a heat pump? Well, Carrier heat pumps are devices used to heat and/or air-condition a building. Most conventional furnaces heat a room by adding heat - they burn fuel, such as natural gas, or wood, or use an electric heating element. By contrast, Carrier heat pumps transfer or move the heat from someplace else.
Carrier heat pumps that are used as heating devices take heat from a low-temperature source and expel it somewhere else in the building, raising the temperature.
Carrier heat pumps can also be used to cool -- and your home probably already contains one: a refrigerator. It contains machinery that cools (removes heat) from the interior of the refrigerator, keeping the food stored inside cool. Carrier heat pumps do the same thing, just on a much larger scale. They take heat out of the room to be cooled and transfer it to the air outside or to the ground.
What is included in a typical installation of Carrier heat pumps ? --A thermostat - this controls the operation of the heat pump system as a whole. Today's thermostats are digital, and very easy to operate. --An air handler - this circulates the air throughout your home --The heat pump unit itself - this unit is responsible for the transfer of the heat from one location to another --Air cleaner - filters out pollution and dust as the air circulates.
The price you will pay for various Carrier heat pumps will depend on the size of the unit you need, the type (air or ground source), optional units attached to it and whether it is a single purpose or dual purpose unit (heating, cooling, or both).
One thing to note: you cannot save money on new Carrier heat pumps by trying to do the installation yourself. You MUST use a trained professional. NO EXCECPTIONS! This is because they must use specialized techniques for installation and special tools not available to the non-specialist. Since all heating and air conditioning units are expensive, make sure any Carrier heat pumps you purchase are installed by qualified persons.
Good luck with your new Carrier heat pump!
Corporate HQ: Farmington CT 06034 (USA) Parent company: United Technologies Corp.