Heat Pumps - Reviews, Prices and More!
Heat Pump Prices: How To Get The Best Deals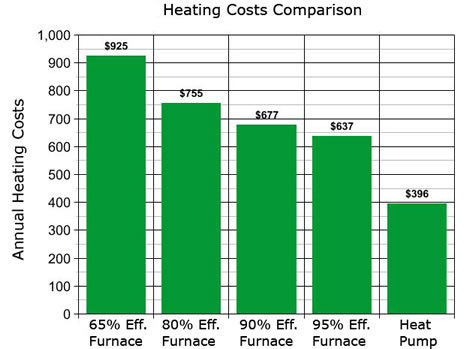 So you are looking at heat pump prices...First things first: What is a heat pump? A heat pump is simply a device for moving ('pumping') heat from one location to another, either to heat or cool an area. Some heat pumps use the air, others the ground, as their source for heat.
Heat pumps are very beneficial when living in cooler climates. They provide heat for homes that operate in a similar manner as air conditioning. Oddly enough, heat pumps use mechanical refrigeration to pump the hot air into homes. A heat pump does not actually pull hot air from one area but instead pulls cool air, heats it up, then pumps it to a cooler area. Heat pumps uses vapor compression refrigeration with reversing valves. This creates the possibility to reverse the valve during warmer times in order to pull the hot air out. Heat pumps are less common than other traditional heating systems, which adds a little difficulty when shopping for one. This guide will cover the basics of buying a heat pump.
The first thing to know when purchasing a heat pump is how efficient it is. Most heat pumps produce three kilowatts of heat for every kilowatt of electricity. This means that you get three times more heat than normal electrical heating systems. In addition, the heat produced by heat pumps is not like the heat produced by furnaces; it tends to be more even and dispersed. Users also report feeling a better sense of natural comfort. Heat pumps are completely safe to use unlike wood stoves that produce fire or furnaces that use oil.
The next thing to consider is whether you want a water heat pump, a geothermal heat pump, or an air source heat pump. An air source heat pump uses the air from outside to heat or cool an area whereas a geothermal heat pump gets the heat from the ground. Water heat pumps use water to pump heat into a house or building. They offer similar advantages. However, they will vary in cost. Some things that will affect the cost of a heat pump system include size, brand, water capacity, and climate.
Heating with a heat pump, however, is not for everyone. They generally do not heat as much as other heat systems. For people who live in climates with extremely cold winters, it would be smart to have a backup heating system such as electrical furnaces just in case the heat pump does not provide enough heat. For those who live in climates that get cold but not freezing, a heat pump is probably the best choice; it will also normally not require a backup heating system. The longevity should also be considered when shopping for a heat pump. It is best to get the highest quality heat pump because it runs year round. Heat pumps are used in the winter for hot air as well as in the summer for cool air, which means it never stops running. This can cause strain on certain parts such as the compressor and other mechanical parts.
The size of your heat pump is one of the most important factors to consider. Heat pumps that are too small for your home will not be able to provide enough heat during the winter and cool air during the summer. On the other hand, heat pumps that are too large for your home will constantly turn on and off. This causes extreme damage to the mechanical devices on the long term. This could reduce the longevity of your heat pump by many years. It is vital to have a professional decide the correct size require for the size of your home to avoid these two potential problems.
Some of the leading heat pump manufacturers include General Electric, Coleman, Lennox, Aire-Flo, Amana, Emerson and many more. It is important to buy a heat pump system from a reputable provider for best results. This will be the source of comfort in your home for many years.
Finally, heat pumps will vary greatly in cost but will most likely save you a lot on money on the long term. The costs will range from about 500$ for a single room heat pump to roughly 25 000$ for a full central heat pump system. They will most likely save you a lot of money considering that they do not generate heat; they move it.
Before settling for one heat pump system, get many estimates, but remember not to settle for anything until the best deal is available. It is important to review the brand, consider the size, and finally think of your comfort and not the immediate price. It would be a very regrettable choice to pay a little less and spend years without enough heat in your home.